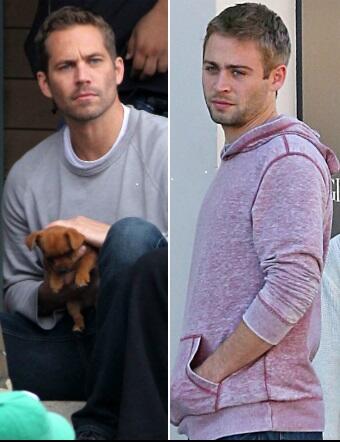 In a poignant tribute to the star, Paul Walker's younger brother Cody, 25, who has worked as a movie stuntman, has been asked by Fast & Furious 7 producers to step in and film the final scenes of the movie, which has been shutdown following the actor's tragic passing on Nov. 30.
"Producers had a string of meetings right after
Paul's death," a source close to the production
exclusively tells MailOnline.
The insider adds, "They soon realized they needed someone who looked like Paul to finish the movie
and that's when they approached his nearly identical brother Cody."
Paul, the oldest of five siblings, starred as undercover cop turned illegal street racer, Brian O'Conner, in five of the six movies.
Cody is yet to make a decision, but the source says he'd mainly be used for shots from behind and at a distance if he accepts.
Smiles: Beaming, the Walker brothers, from left, Cody, Caleb and Paul, pose in the fall sunshine at Caleb's October wedding